Private Label
The benefits of working with a private label production house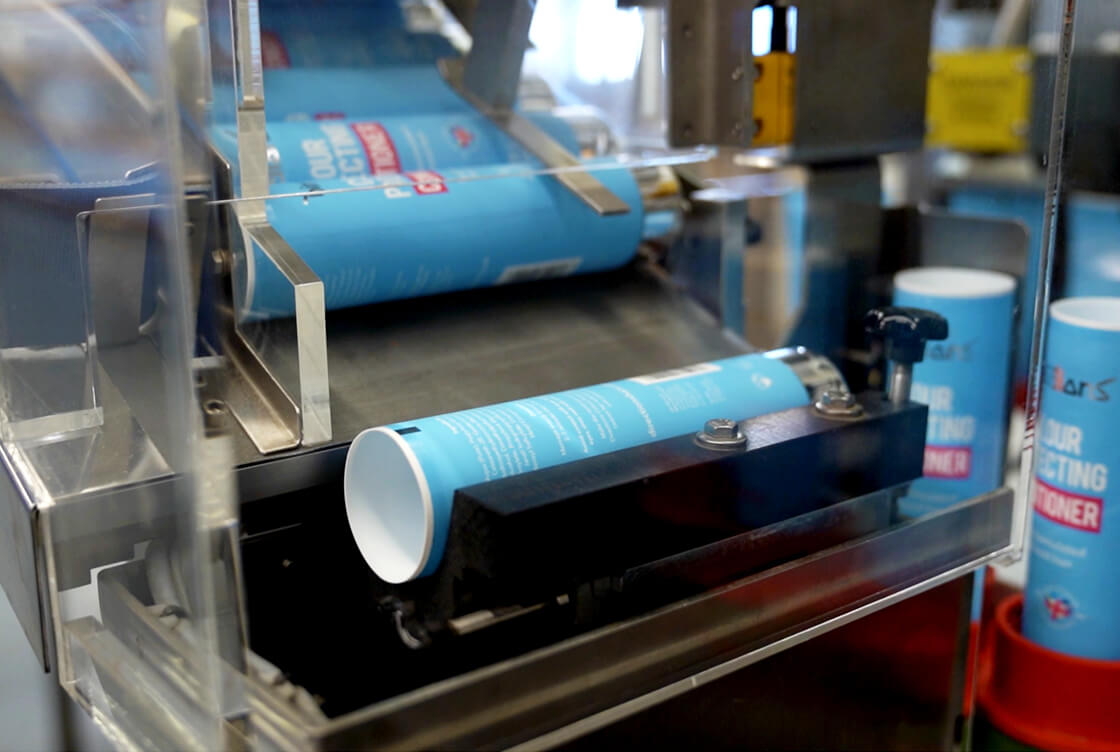 With the hair colour care industry growing at an impressive rate, we wouldn't blame you for wanting to join this thriving landscape.
However, if you're looking to carve out your own identity in this crowded market, you may not have the location, equipment or workforce required to manufacture your own unique products. That is where private label production houses can make a massive difference.
At La Riche, we have been at the forefront of the hair colour industry for over 40 years, and have proudly acted as the private label manufacturer for some of the world's leading brands. This leaves us perfectly positioned to provide you with an essential guide to private label production and the advantages it offers your brand.
What are private label products?
Private labelled products are developed by a third-party manufacturer, but sold under a seller's specific brand name. As the seller, you take ownership over the label customers will see on their shelves at their local supermarket. But the product itself is crafted by the manufacturer – you don't have to lift a finger.
In our world, this means we handle all of the R&D and mixology that goes behind each of our clients' batches of colour. This is then supplied to our customers in a 200kg drum, or already inside our 300ml / 350ml tubes.
How the tubes are labelled and coloured is completely down to you. Private labelling means that you can focus on the marketing, while somebody else focuses on the manufacturing.
5 benefits of private label production
1. Faster times to market
As the private label model is based on pre-existing products and manufacturing techniques, this means it is faster to go from concept to market. Rather than eat up a lot of time developing a bespoke, unique product, it is ready to be mass-produced straight away, so your branded products can be on shelves in a matter of weeks.
At La Riche, we have a spectrum of hundreds of unique hair colours and formulas, which we can comfortably develop for our customers. You can see a sample of the breadth of our colour range from our standout brand, Directions.
However, we recognise that one of the biggest critiques of private label production is the concern that your colour will also be stocked by competitors under their own brand names. At La Riche, when you pick a colour from our vast range, it becomes your colour. Nobody else will ever have access to it, making it exclusive to your brand.
We can even work with you to develop your own bespoke, vibrant colour mixes, using our colour spectrum as a base. From there we can formulate your own unique offering, which will be the proud property of your business.
2. No need to invest in your production facilities
The hair colour market can be a lucrative one to tap into, but the overheads associated with production have put many off in the past. Private labelling cuts down these costs, as you are utilising pre-existing, tried-and-tested manufacturing facilities.
So, instead of investing money into renting and developing your own production warehouse, your products can be developed in a trusted, well-established building. Your products get launched faster, and the foundation costs are bypassed.
3. It is cost-efficient
Speaking of costs, private label production is substantially more cost-effective for sellers than developing products themselves. This extends past the cost of creating your own production warehouse – you do not have to devote significant time and resources into R&D, as this has all been taken care of beforehand.
Fundamentally, the private label model streamlines the steps involved in getting your product to market. This means that the costs involved are greatly reduced, and can lead to much more favourable profit margins.
4. Control over marketing
How you market your hair colour products will set you apart from others lining the crowded corridors of supermarkets and retailers. So, it is important that this step is given the attention and resources it deserves to give your brand a powerful voice – and that the production process itself doesn't detract from this.
By unloading production to a trusted, well-respected manufacturer like our team at La Riche, you can devote complete, undivided focus to how you will make your new product stand out on shelves. This is where your team can shine, and ensure you secure a slice of this growing market.
5. No trademarks
Finally, the manufacturers of private label products hold no trademark over these once a deal is secured with a seller. This means that sellers can market all products with complete peace of mind, and customers can be left completely unaware that the product they purchased was actually created by a different manufacturer.
At La Riche, we pride ourselves on our complete confidentiality towards our products and customers. We work with some of the world's top hair colour brands, but you'll never know which ones…
Private labelling vs white labelling
The terms "private label" and "white label" are sometimes used interchangeably online, leading many to believe they are one in the same.
Although both approaches are based around a third-party manufacturer developing products on another brand's behalf, there are key differences between the two:

| | |
| --- | --- |
| Private labelling | White labelling |
| Private label products are manufactured exclusively for one specific retailer | White label products are based on pre-existing materials and techniques |
| Private labelling is typically more open to customisation | White labelling typically works in more fixed parameters |
| Private labelling will often involve more investment and development time | White labelling will often enable products to be made efficiently and cost-effectively |
| Private label products often demand more of a seller's attention and guidance | White label products often need less input and oversight by the sellers |
| Private label products often take longer to source and carry higher order demands | White label products can be sourced quickly and with low minimum order requirements |

In summary, private labelling can offer sellers a more unique, standalone product, as everything is specified in advance by the seller before manufacturing takes place. And at La Riche we work hard to minimise the increased costs associated with this approach and ensure that every colour selected by our customers is made exclusive to them.

Make La Riche your perfect private label partner
We hope you've enjoyed this insight into what private labelling is and the benefits it offers to those looking to make their mark in the hair colour industry.
At La Riche, we have been producing the most vibrant, diverse and characterful colours around for over four decades. Our expert mixologists and established production process means we are perfectly placed to create outstanding products that your brand can take pride in.

We adapt our services to your needs, whether you're looking a total end-to-end solution, or just a simple, direct transaction

Our colour spectrum boasts hundreds of unique, eye-catching colours – or we can work with you to develop your own bespoke formula

We pride ourselves on complete confidentiality and competitive pricing, working with leading brands across the globe

All our products are vegan-friendly and cruelty-free
If you'd like to know more about our approach or our vivid variety of colours, get in touch with our team.